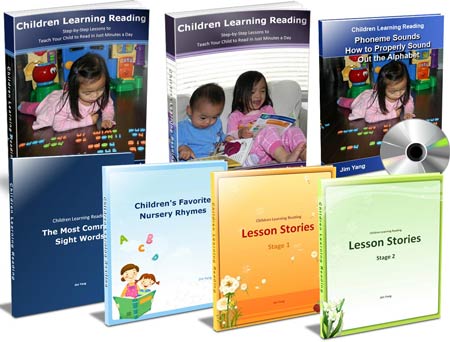 Is it possible to teach your toddler to read at home? Do you want to learn how to teach a toddler to read? This Children Learning Reading review will share with you about my personal experience of using this program to teach my toddler son to read at home since he was 2 years and 3 months old.
It's a rather lengthy read. So you might want to look at the details of the program right below if you don't have the time to read on.
Product Name: Children Learning Reading program
Creator: Jim Yang
Website: www.childrenlearningreading.com
Price (updated in Dec 2018): Standard package is $69 for 6 e-books and letter sounds MP3 audio clips. Premium package is $89 for the standard package and five extras that include the lesson video and workshop, video edition, pre-set printouts for Stage 1 and Stage 2 Lessons, and ebook of Stage 2 Rhymes. Both packages include lifetime program upgrades and 12-week one-on-one consultations.
Note: Either package contains all digital products which you can download to your computer as soon as you order. No postal /shipping fee.
Overall Rating:  5 out of 5.
What Is It?
A unique and systematic reading program based on phonics and phonemic awareness instructions, that will teach young children as young as toddlers 2 or 3-years-old to read.
The program creator, Jim Yang has successfully used this program to teach his 3 children to read before they turned 3.
There have been studies that show that phonemic awareness is highly effective in helping young children to manipulate phonemes (individual sounds) to sound out words and in decoding printed text. Studies have also shown that teaching reading using the phonics method produces more successful and fluent readers.
This program consists of 50 little lessons, broken down into Stage 1 and Stage 2.
Jim recommends that parents start their reading program around 2.5 years old as that's the time the kid is able to speak more clearly. If your younger toddler has more advanced speech development, you can start your child earlier.
You won't be sitting your child in front of the TV or computer screen for the lessons. Rather, you'll be spending quality time going through the step-by-step lessons with your child.
Who Is It For?
This program is designed for parents with young children aged 2-7.
This is NOT a program where parents just pop a DVD into the player or sit the child in front of the computer screen.
Parents, you'll be actively involved to help your toddler or preschooler learn to read phonetically through a simple, effective and step-by-step program. It's worth your time. Seriously. But please take note that this is a digital package, there are not physical products to be shipped to you. Everything is downloadable to your computer upon your purchase.
Pros:
Program extensively teaches and helps your child to develop phonics and phonemic awareness skills.
Great introduction in the main e-book that clearly discusses the importance and benefits of early reading, and the steps involved in helping your child to learn reading.
Easy to follow and it's all spelled out in the step-by-step lessons.
A chance for you to learn phonics too. I've never learned phonics as a child so I benefited from the lessons too.
Audio clips that demonstrate the correct pronunciations of all the letter sounds. I sure needed this as I wasn't schooled in phonics.
The lessons are short to match the short attention span of little kids and the busy schedules of parents.
Super-effective, and it will be so rewarding to see the reading progress of your child after each lesson. It's certainly a rewarding experience for me.
There are printouts (Premium package) that you can print, cut and use in your lessons with your kid. My son loves the printouts and would ask to play with them even after the lesson is over.
This program is cheaper than the more branded and award-winning baby reading programs.
Everything in the program is downloadable so you can access it immediately. There are no physical products to be shipped to you. Save on shipping cost.
Cons:
You have to spend time daily to help your child learn. Consistency and daily parental involvement are crucial in helping your child learn to read successfully.
In Stage 2 of the reading program, occasionally I came across a lesson where there are some words that didn't come out as quite right when I sounded them out. Like I said, I'm not trained in phonics instructions. Maybe these are sight words… I should have checked out the ebook "The Most Common Sight Words". :P
Does Baby Reading Program Work? Not for Us.
When my toddler son was a baby at 7 months old, I bought an expensive baby reading program (nearly $170 after discounts) that claims to teach babies to read. It was an award-winning program after all and I was sold.
I started him on the reading lessons when he was about 9 months old. After several weeks of sitting my baby daily in front of the computer screen, one day I just decided to stop the lessons. I couldn't detect any sign of my baby learning to read.
By constant flashing of words and pictures, I wonder how effective can it be in teaching a child to read? But it was such an easy way out, just sitting my child on my lap and going through the daily lesson flashed on the computer screen. It hardly took any effort on my part.
Initially, I thought perhaps my son wasn't ready and I would give the program another chance when he was older. Instead, time rolled by and my son turned into a toddler and he was definitely not reading anything yet.
Whole Word Method or the Phonics Method? The Latter.
When he was about 17 months old, I chanced upon another reading program, this time, the Children Learning Reading program.
I read through their website page carefully and I began to see the importance of choosing the right reading method. It's an enlightening read for me. I mean, I didn't even realize the importance of choosing the right reading method back then.
Perhaps it wasn't a bad thing that my son didn't learn to read with the baby reading program because now that I see it, it was teaching children to read by the whole word method which means my child would have to "memorize" hundreds or thousands of word shapes! Not a very sound and effective method of reading, I would say.
I would much rather he learns to read by sounding out words and decoding words through the phonics and phonemic awareness instructions. Which by the way I have since learned would produce more successful readers in reading and spelling abilities. This is the method of instruction used in Children Learning Reading program.
Knowing this upped my confidence in the program.
Not Speaking Yet? Develop Phonemic Awareness.
But my toddler son was barely speaking…
When I emailed Jim to ask him if it was alright to start my son on his reading program, he honestly replied that while my son might be too young to start on his program, but it was not too early to help him build up his phonemic awareness skill.
Jim encouraged that his own son started picking up phonemic awareness when he was just about 1.5 years old and developed excellent phonemic awareness skill by the time he was 2.5 years old, and his reading lesson progress was fantastic.
I got the premium package, took Jim's advice and worked on helping my son to develop his phonemic awareness skill through play. The informal learning was kept to a minimal and revolved around play. And meanwhile, my son continued to grow, play and explore the world around him.
By the time Kaden turned 2 years and 2 months old, he was speaking some words, knew his alphabet and could pronounce most of his letter sounds. I also noticed he was a very enthusiastic learner. I wanted to find something to stimulate and keep him occupied. I thought of Jim's reading program and started Kaden on his lessons.
Does This Program Work? You Bet!
It was a rewarding experience to see how joyfully my toddler son soaked up his lessons! He loved the Stage 1 lessons and the printouts and would play with the printouts till the thick paper cutouts turned very worn and crumpled. Each lesson was short and on the average less than 7 minutes.
Since he already knew his letter names and sounds when he started on the program, his reading progress went great.
It was his mommy aka me who delayed his lessons ever now and then, letting other activities and letting life took over certain days. Stage 1 could have been completed within 12 weeks or 3 months. We completed ours in 4.5 months…
But that didn't stop Kaden from learning to read! It's very fascinating when you see a little tot made incredible process in learning from sounding out single words to sounding out short sentences such as:
"THE CAT HOPS UP, UP, UP",
"The red bus is bent, and it has a dent."
By the end of Stage 1, he was even reading mini stories! He has also made the transition from reading uppercase letters to lowercase letters.
I feel so proud as his mommy who plays a part in being his first teacher and in helping him learn to read!
Can Toddlers Become Fast and Fluent Readers? Sure.
Maybe I was not schooled or trained by phonics instruction. It was me who sometimes found it strange when I sounded out certain words to my toddler. Despite me feeling like a robot sounding out words that sound rather incomprehensible to me, my son could mostly name the word I was sounding out to him. Awesome.
After we progressed into Stage 2 of the reading program, I detected his wonderful progress when I would play a tiny game with him. I would name a random word such as ,"Button, the word button starts with the letter…" and my toddler would continue with the answer B and its letter sound! To me, that signified the beginning of a little speller. I was pleasantly surprised and elated!
Something else convinced me that this was a superb reading program.
Recently, when Kaden was about 2 years and 9 months old, he took out one of his several reader books passed down from his older cousins. It was a partial collection of a children series known as "Keywords with Peter and Jane".
He took book 1A and asked me to read. Instead, I asked him to read, thinking of taking the chance to help him to practice his new found reading skill. I was astonished when he could read book 1A entirely without my assistance!
Months earlier, I would never think that my toddler would be reading a short book to me anytime soon. But he did. And when I pulled out book 2A to see if the magic continues, it did.
Would I Recommend This Program? Highly!
I must say, going through the Children Learning Reading program with Kaden gifted me one of the most rewarding experiences of my life. To be able to help my own son learn to read, and to be able to witness his transformative journey and growth within such a short span of time, made me feel that I was doing something right.
It is an eye-opener to a young child's learning potential and an empowering feeling for a parent.
My son is now halfway through his Stage 2 lessons.
He would be chasing me for his lessons, "Mommy, do lesson 11!" If I agreed, he would go "Do lesson 12!" And I would say, "You have to practice lesson 11 more. And when you are good at lesson 11, we will do lesson 12." :)
He enjoys peeking through his lessons which I have printed out and stored in a folder to see what's up next. To know that he enjoys his lessons and have fun learning, that's important.
If it's the first time you've come across information about teaching a toddler to read, or you've been contemplating whether to buy those expensive baby reading programs, stop. I would highly recommend that you check out the downloadable Children Learning Reading program by Jim Yang. His program rocks and truly produces obvious results!
UPDATE:
June 2016 – Kaden is now 5. We've completed his lessons shortly after he turned 3. I know, we weren't the fastest rabbits in completing the lessons. ;)
Two weeks ago, his kindergarten teacher has feedbacked that Kaden can read and he's a high performer in her class. Normally when she wanted the kids in the class to write out anything, she would have to tell the kids how to spell out the words, or she would let them copy out the short sentences. For Kaden, his teacher would just let him do his own writing as she has noticed he's able to spell out some words phonetically on his own. She would only correct him when he was done.
I've not been reading with him on a daily basis like I used to when he was younger. Still, when I checked on his reading skill occasionally, I'm still amazed that he's advancing in his reading ability. Because of his ability to read, he can recognize and memorize almost all of our current MRT train station names and he's able to look at the world map and identify a good number of the countries.
I'm glad that I took the effort and time to teach him how to read using the Children Learning Reading program three years ago. Otherwise, I'll be frantically sending him to attend a phonics class like I've seen many of his classmates' parents doing so this year. Nowadays, he would still request me to read to him occasionally, but mostly, he would pull out one of his storybooks and read on his own. :)
Check out my 2017 review update here.