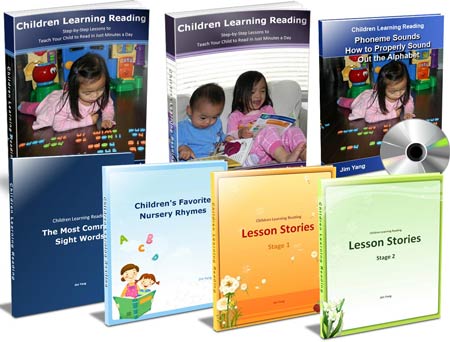 It's been four years ago when I started to teach my son, Kaden to read using the Children Learning Reading program. Since my written review of the program over two years ago, I think it's time for a little update on my review of this learning to read at home program. You can read my original review here.
You can check out the below short video clips showing my son's reading progress at different stages after going through the program.
Kadn is six years old now. I'm still grateful that I've used Jim Yang's Children Learning Reading to teach him to read since he was a toddler at 2 years and three months old. This program, I have to say, has given me as a parent one of the most rewarding experiences of my life—in teaching my toddler to read at home.
As I recalled a few recent events, I can see the benefits and the opportunities given to him because of his ability to read at a young age.
He was Chosen to Be the Narrator
Toward the end of 2016 last year, Kaden's preschool was selected as one of the eight preschools to present a short musical at a competition for K1 (5 year olds) children.
Kaden's own class wasn't chosen to represent his preschool. Instead, the chance was given to afternoon K1 class. But he was asked to be the narrator for the musical because he was the only kid in the two K1 classes who could read.
Kaden's team took the 2nd runner-up in the competition and afterward, parents of his teammates came up to me and praised his ability to read from the script.
Opening Ceremony Musical Performance
This year, Kaden is in K2, his final year in his kindergarten. Beginning of the year, his preschool was invited to present the musical at the official opening ceremony of a community project.
This time, Kaden's class was chosen to present the musical and he resumed his role as the narrator. As he had gone through many rounds of rehearsals, he could even memorize the script toward the end.
On the actual day of the performance, though not completely well after a week of illness, Kaden did his part and his group put up a good show. The invited guests had good words for Kaden's performance as they didn't expect a young child to narrate the story without referring to his script.
I was moved by his dedication and thankful for the chance given to him and it all started because he's able to read.
His Reading Skill Now
He's completed his first half year of school year and his core teacher feedbacked that Kaden is doing well academically. She was impressed by his ability to read all the given sight words as he was the only one able to do so in his class.
At first, she thought he memorized the words. But later on, she realized that Kaden is able to read phonetically.
Kaden doesn't read as many storybooks as he did last year. These days, he seldom ask me to read to him anymore. Normally, he would just go to his book collection, pulls out the book he wants and starts reading on his own.
He did read his first chapter book, The Good Dinosaur: The Junior Novelization early this year. As I didn't go through the book with him, I don't know how much he could read from that book. But he told me he's done reading it.
Using His Phonics Skill on Reading Hanyu Pinyin
Recently when I went through Kaden's Chinese tuition worksheets with him, I found that he could read the Chinese characters! I was pretty excited as Kaden grew up speaking English and I only started to send him to a weekly Chinese tuition class last year.
But I quickly realized he didn't recognize the Chinese characters, he was merely decoding the Hanyu Pinyin (official romanization system for Chinese) stated underneath each Chinese character! He didn't get the pronunications of all the characters in the sentence correct as Hanyu Pinyin has four tones and he hasn't learned this yet, but he was quite close.
I feel that he shouldn't be learning to read Chinese starting with Hanyu Pinyin, and should be recognizing the Chinese characters first. So I deliberately covered up the Hanyu Pinyin so that he couldn't peek at them.
But this incident showed me that he's still reading phonetically and even trying to apply it to Hanyu Pinyin.
A Chance to Do Voice Recordings in Chinese
As Jim Yang, the creator of Children Learning Reading program has shared that children who successfully learned to read at a young age has an advanced headstart in their learning journey. And I'm seeing it happening in my son's life.
Kaden is having his June school holidays now. I believe due to his earlier good performance as a narrator in his school musical, he was recommended by his principal to try out as a voice talent for a local educational institute to do voice recordings for a series of Chinese preschool educational materials. Five children are involved in this project and three of them are preschoolers. They still has one final recording day tomorrow and then the project would be completed.
Yes, these audio recordings are all done in Chinese and not English but it's still an opportunity granted to him because of his initial ablity to read in English that left a strong impression on his principal who decided to recommend him for the project.
A More Vibrant Kindergarten Experience
Being able to read at a young age has opened up doors for Kaden. I'm happy to say that his kindergarten days are much more colorful and eventful than mine. And I'd recommend parents who are willing to put in the time and efforts to teach their kids to read, to give Children Learning Reading program a go.
Thank goodness I didn't have to spend money trying out different reading programs for young children except for one baby reading program that I bought before I came across Children Learning Reading program. I also don't have to fork out monthly fees to send my son to English phonics enrichment class as I've seen many other parents doing so.
But I have to say, if you're not willing to set aside few minutes each day to go through the daily lessons with your child, then this program is not for you.
After hearing my success in using this program with Kaden, my cousin bought the program but she let it sit on her computer as she didn't go through the lessons with her young daughter till now. My cousin is more motivated in paying and sending her daughter to enrichment classes.
So if you're more motivated by external classes and teachers like my cousin, then this program is not suitable for you.
But if you're willing to read through the main ebook of the program, prepare the printouts (in the Premium package only) in advance, go through the daily lesson in advance, and then sit with your child and practice with her on each short lesson, you'll see results.
NOTE: This program is all in digital format. No shipping fees. Download to your computer instantly.